Chateau
Our Chateau series door system combines the most up-to-date technology, quality and decorative features along with our proprietary self-draining sill. Its uncompromising durability will provide you with many years of maintenance-free performance.
Doorglass
Security
Tempered glass on all decorative doorglass
Durability
Double seal on all Stained Glass. Sealed with Intercept® on all other models
Aesthetics
The colour of the Stained Glass spacer bar (interior perimeter) harmonizes with the Stained Glass caming.
Energy Savings
All decorative door glass provides high energy efficiency.  Use of low-emissivity (low-E) glass and argon gas increases its energy efficiency, thereby reducing heating costs in winter and reducing the solar heat produced in summer, which in turn reduces air conditioning costs.
Privacy
Retractable internal mini-blinds are available.  They are maintenance-free, no dusting required, privacy guaranteed. Available with Low-E glass.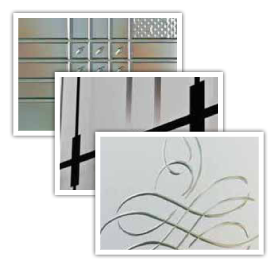 Innovative Frames
DEL offers you unique frames with innovative design. These frames come standard with Stained Glass, Silkscreen, Thermoformed, Thermacrystal™ and Total Privacy Series, in most sizes.
Benefits
These frames do not have any visable screw caps and have a stylish appearance.
These frames have easy snap-on covers that replace the screw caps.
They will enhance the beauty of your door.
All door inserts include a maintenance-free frame
Will not yellow
Will not crack
Doesn't require painting
Prestige Mouldings
The Prestige mouldings are a perfect match for the Prestige steel door collections
These Prestige mouldings have many advantages
Can be installed on one or both sides of the door
Can be painted (made in aluminum)
Insulation value of the door preserved (no cut out)
No risk of water infiltration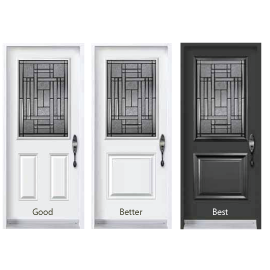 Victoria Door Shelf
Made of Aluminum, the optional door self for the Victoria series, will add depth and character to your door.
Sleek and unique design
Can easily be painted (Made from aluminum)